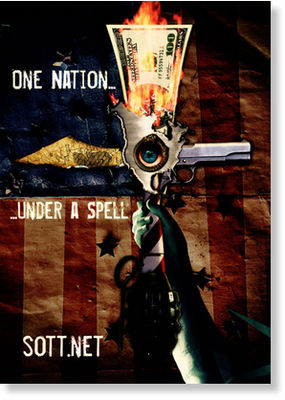 A rather funny thing happened at the beginning of this month that involved a fictitious article penned by the little known but much loved Igantious O'Reilly for publication on April Fool's Day. The article,
Sudden Mass American Enlightenment Puzzles Congress and Causes National Security Alert
, very quickly became a hugely popular editorial that was
picked up by thousands
of alternative news websites, forums and discussion groups around the world.
What was it about this article that resonated with so many people?
In times such as these, the powers that be seem to be getting even more desperate to hold onto control and keep the wool pulled over our eyes. A message of hope that the world CAN change is a powerful one, provided that as many of us as possible wake up to the reality of the lies we have been told. We CAN collaborate by sharing our knowledge and joining together to form new communities that no longer feed the greedy, power-hungry ambitions of the psychopaths who are world leaders, financial oligarchs, and run or own multinational conglomerates.
To protect ourselves, what needs to be done is to wake up as many other people as possible. Only when a sufficient number of people are awake will they be able to awaken those around them. Then, and only then, will it be possible to form a united movement to simply remove all support from the psychopaths that have taken over our world and begin planning for the future of OUR children - rather than the offspring of the ruling psychopaths.