Supermarkets were forced to withdraw about 50 salmon products from their shelves yesterday, after it emerged they may have been contaminated with diesel.
Ten supermarkets, including Tesco, Asda, Sainsbury's and Morrisons, have had to withdraw products ranging from Tesco's salmon en croute to Co-op's salmon fillets. The Food Standards Agency (FSA) said salmon supplied by Marine Harvest to Morrisons and to a second firm, Young's Seafood, who make their own brand as well as those for other retailers, is believed to be the source of the contamination.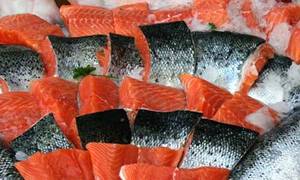 ©Goncalo Ddiniz/Alamy
Salmon fillets and other fish on ice at a counter.