Women who get cosmetic breast implants are nearly three times as likely to commit suicide as other women, U.S. researchers reported on Wednesday.
The study, published in the Annals of Plastic Surgery, reinforces several others that have shown women who have breast enlargements have higher suicide risks.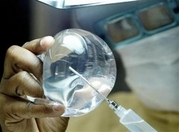 ©Reuters
A laboratory worker of Silimed factory checks silicone in Rio de Janeiro, in this file photo taken on March 27, 2003.