Dr. Ronald Dworkin tells the story of a woman who didn't like the way her husband was handling the family finances. She wanted to start keeping the books herself but didn't want to insult her husband.
The doctor suggested she try an antidepressant to make herself
feel better
.
Comment: And that was supposed to SOLVE the problem!? Whatever happened to the Hippocratic oath?
She got the antidepressant, and she did feel better, said Dr. Dworkin, a Maryland anesthesiologist and senior fellow at Washington's Hudson Institute, who told the story in his book "Artificial Unhappiness: The Dark Side of the New Happy Class." But in the meantime, Dworkin says, the woman's husband led the family into financial ruin.
"Doctors are now medicating unhappiness," said Dworkin. "Too many people take drugs when they really need to be making changes in their lives."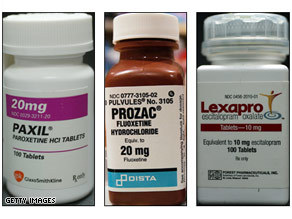 Antidepressants are America's most-prescribed drugs.