Science is getting a grip on people's fears. As Americans revel in all things scary on Halloween, scientists say they now know better what's going on inside our brains when a spook jumps out and scares us. Knowing how fear rules the brain should lead to treatments for a major medical problem: When irrational fears go haywire.
"We're making a lot of progress," said University of Michigan psychology professor Stephen Maren. "We're taking all of what we learned from the basic studies of animals and bringing that into the clinical practices that help people. Things are starting to come together in a very important way."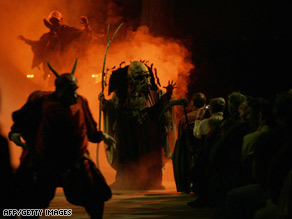 ©AFP/Getty Images
'Halloween Extravaganza & Procession of the Ghouls' in The Cathedral Church of St. John the Divine in New York.