Outside the General Medical Council's London HQ it was clear something significant was happening.
Scores of campaigners, watched by police, had gathered from early morning waving placards in support of Dr Andrew Wakefield.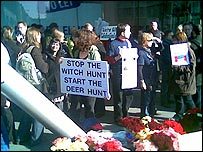 ©BBC
Campaigners were at the GMC to show their support for Dr Wakefield
Most were parents with autistic children wanting to show support for the man who made the link between the three-in-one measles, mumps and rubella (MMR) jab and the disorder.
Of course, since his paper was published in the Lancet medical journal in 1998, medical experts have sought to discredit the findings.
And now he is before a GMC fitness to practise panel over how he conducted the research.
'There are still doubts'
But despite the controversy surrounding his findings, the campaigners camped outside the hearing were full of support for the 51-year-old.
Nina Lteif, a 37-year-old mother of twin boys from Surrey, said: "We have come here to show him we believe in him. There has been a witch-hunt against him when all he was trying to do was help people."
Mrs Lteif's six-year-old boys have autism, and she believes the MMR jab which they had just after their first birthday contributed to it.
"Despite what all the research has said since Dr Wakefield published his, there are still doubts in the minds of parents.
"He should have been encouraged to carry on his research, but the government and medical world has just wanted to ignore it."
A pat on the back
Inside the glass-fronted building, the atmosphere was vastly different.
The hearing is being held in a long office-type room with filing cabinets down either side - a rather understated environment to pass judgement on one of the most controversial medical experts of his generation.
When Dr Wakefield walked into the hearing, he was patted on the back by the small group of supporters that had been allowed into the public hearing.
But, with the GMC staff and journalists far outnumbering his supporters, there was a rather studious atmosphere in the hearing.
Dr Wakefield, and the two professors who are also facing professional misconduct charges alongside him, sat opposite the five-strong GMC panel.
Dr Wakefield is the first of the three to give evidence.
Much of the early proceedings were spent detailing the progression of his career.
It was only interrupted by an outburst by a supporter, who tried to give the GMC some extra evidence.
While the beginning of his defence marks a new phase in the GMC hearing, which started last summer, the feeling remains that in the end it may make little difference.
After all, Dr Wakefield is now working in the US where he runs a developmental disorders clinic for children.
And the GMC's remit does not stretch across the Atlantic.