Earth Changes
---
Scientists are setting up seismographs in a wilderness region of the British Columbian Interior today to determine if a pending volcanic eruption is the cause of hundreds of small earthquakes the area has been experiencing non-stop since last week.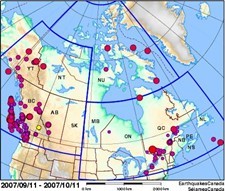 ©Natural Resources Canada
Map of earthquake activity over the past 30 days
John Cassidy of the Geological Survey of Canada said the region surrounding the remote volcano, known as the Nazko Cone, has experienced a "swarm" of over two dozen quakes a day since Oct. 10. The red volcanic rock cone is 16 kilometres from the village of Nazko, a community of about 200, and is 75 kilometres west of the town of Quesnel.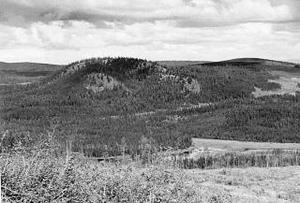 ©Global Volcanism Program
Nazko Cone, the easternmost and youngest volcano of the Anahim volcanic belt in the Chilcotin-Nechako Plateau, central British Columbia
---
Raymond S. Bradley, director of the Climate System Research Center at the University of Massachusetts Amherst, has received a three-year, $416,550 award from the National Science Foundation for his project, titled "
Volcanoes in the Arctic System: Geochronology and Climate Impacts
." The award will help Bradley and his colleagues to better understand the impacts that natural factors, such as explosive volcanic eruptions, can have on the Arctic system and on global climate fluctuations.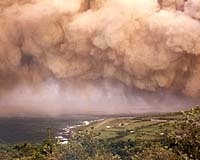 ©Unknown
Volcanic ash cloud.
---
Some of the world's most vulnerable island nations appealed Monday for action to halt climate change that could cause them to disappear beneath the Pacific Ocean.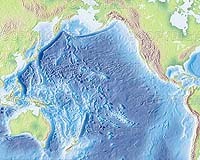 ©Unknown
Comment:
Unfortunately for the people of the Pacific Islands, along with the rest of us, climate change is not so easily stopped by just having humans slow down their use of CO2 causing devices. Especially since this is a very minor contributor to climate change in the first place. It is a much more complicated issue as is noted
here
.
---
LANCASTER, Calif. - A blinding sandstorm that caught drivers by surprise caused a 12-car pileup Tuesday on a highway in the high desert north of Los Angeles, killing at least two people and injuring 16, authorities said.
---
Gina Covina
Alternet
Tue, 16 Oct 2007 18:59 UTC
---
Storms in South Africa are going to become more severe, an analyst at the South African Weather Service has warned. And while residents in Mamelodi, Soweto, were mopping up water and clearing up the damage to their houses this week, weather man Mnikeli Ndabambi warned that people in low-lying areas could expect more flooding.
---
Scientists are headed tomorrow to an area 75 kilometres west of Quesnel to install seismological equipment aimed at determining whether a "swarm" of small earthquakes are evidence of a forthcoming burst of molten lava -- potentially the first volcanic activity in the province in two centuries.
---
Indonesia raised on Tuesday the alert level for Mount Kelud volcano to the highest level, as residents started fleeing amid signs an eruption could be imminent, officials and a witness said.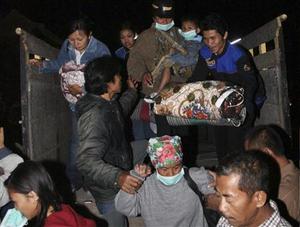 ©REUTERS/Dimas Aro
Villagers living near the Mount Kelud volcano arrive at a temporary shelter in Wates village, October 16, 2007, after fleeing from their homes.
---
AFP
Tue, 16 Oct 2007 11:07 UTC
Seven people died and an eighth was missing after monsoon storms swept through southern Bangladesh, demolishing shanty homes and leaving many injured, officials said.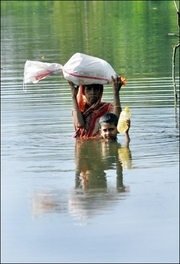 ©Adi Shah/AFP
Bangladeshi flood victims. Seven people died and an eighth was missing after monsoon storms swept through southern Bangladesh.
---