Nutrients from the Amazon River spread well beyond the continental shelf and drive carbon capture in the deep ocean, according to the authors of a multi-year study.
The finding does not change estimates of the oceans' total carbon uptake, but it reveals the surprisingly large role of tropical oceans and major rivers.
The tropical North Atlantic had been considered a net emitter of carbon from the respiration of ocean life. A 2007 study estimated that ocean's contribution to the atmosphere at 30 million tons of carbon annually.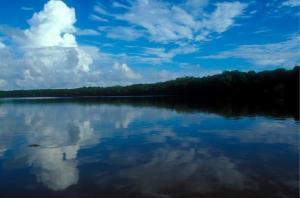 ©iStockphoto
Amazon River.
The new study, appearing in
PNAS Early Edition
the week of July 21, finds that almost all the respiration is offset by organisms called diazotrophs, which pull nitrogen and carbon from the air and use them to make organic solids that sink to the ocean floor.