A British photographer has captured a spectacular Northern Lights display which was sparked by a huge eruption on the sun.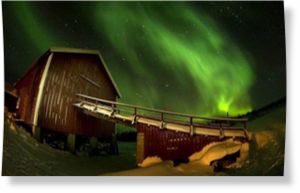 The enormous ribbons of eerie green light were caught in the skies above Finmark in Norway by Mark Humpage who trekked 200 miles in to the Arctic circle.
Aurora Borealis are a spectacular natural phenomenon caused by the interaction of solar winds with the earth's magnetic field - and the 44-year-old endured temperatures of minus 35 degrees in order to catch the images of the beautiful atmospheric effect.