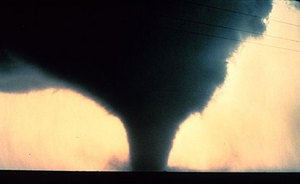 ©NOAA Photo Library
An F2 tornado roars near Seymour, Texas, in April 1979. F2 and F3 tornadoes are considered strong, packing winds of 113-206 mph that can cause major to severe damage.
OKLAHOMA CITY - A tornado as wide as two football fields carved a devastating path through an eastern Colorado town as a massive spring storm swept from the Rockies into the Plains, killing at least four people in three states, authorities said Thursday.
Sixty-five tornadoes were reported in Oklahoma, Texas, Kansas, Colorado and Nebraska on Wednesday, the National Weather Service said.