A powerful magnitude-7.5 earthquake under the Java Sea rattled Indonesia's capital early today, violently shaking tall buildings and sending panicked residents into the streets.
There were no immediate reports of damage, and geophysicists said there was little risk of a tsunami. The quake was centered about 65 miles east of Jakarta at a depth in the Earth of 180 miles, the U.S. Geological Survey said.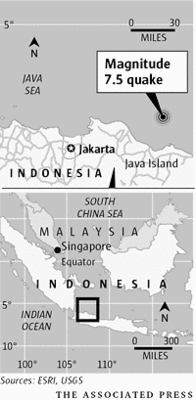 ©AP
It reportedly was felt from Sumatra island in the west to Bali to the east, as well as parts of Malaysia.
"Because this earthquake was so far below the ocean bottom, it didn't trigger a tsunami or cause a lot of damage," said John Bellini, a USGS geophysicist.