Tens of thousands of animals have been trapped under a blanket of deadly ash in the aftermath of a volcanic eruption in southern Chile.
The long-dormant
Chaitén volcano began spewing an enormous plume of ash
visible from space and scattered debris over towns and villages on May 2.
Residents within a 30-mile (50-kilometer) radius of the volcano were forced to evacuate the area, which includes Chaitén - the town nearest the volcano - as well as the Futaleufú Valley, a rural zone populated largely by small farmers.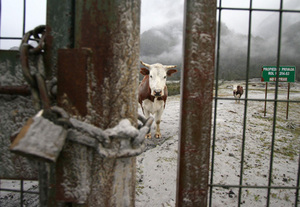 ©AP Photo/Mario Mendoza
Abandoned cattle are seen under a plume of smoke from the nearby Chaitén volcano on May 6, 2008.

Many small farmers were forced to leave their livestock behind as the volcano - which erupted May 2 - continued to spew fiery debris.

On Thursday the Chilean government announced a plan to evacuate the animals, the only source of income for many local residents.