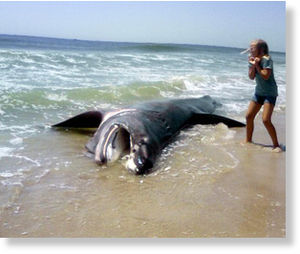 A reportedly 20-foot-long (6-meter-long) basking shark that washed ashore on a beach on New York's Long Island on Tuesday appears to have died from some kind of illness.
New York State Parks official George Gorman said researchers will examine the basking shark to determine a cause of death. After that, it will be buried in nearby sand dunes on the beach.
Basking sharks are common in the waters off Long Island. The giant washed ashore on a town beach a few miles east of Jones Beach State Park, a popular recreation area for New York City-area residents.