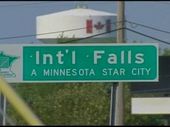 Another morning, another record low temperature in International Falls.
Temperatures in the northern Minnesota city fell to 35 degrees Monday morning - easily breaking the old daily record of 39, set on July 13, 2007, according to the National Weather Service.
It's the second consecutive day of record-low temperatures in International Falls; the morning low on Sunday also was 35 degrees. Monday's low was the eighth record daily low temperature recorded in the city this year.