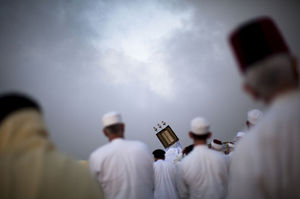 Politics without theology is dangerous, and we must construct a new worldview not reducible to just evidence and logic.

[An edited version of this talk was presented to the Veterans for Peace conference in Portland, OR, on August 4, 2011]

My title is ambitious and ambiguous: revolution and resistance (which tend to be associated with left politics), revelation and redemption (typically associated with right-wing religion), all framed by a warning about ecological collapse. My goal is to connect these concepts to support an argument for a radical political theology.
First, I realise that the term "radical political theology" may be annoying. Some people will dislike "radical" and prefer a more pragmatic approach. Others will argue that theology shouldn't be political. Still others will want nothing to do with theology of any kind. But a politics without a theology is dangerous, a theology without a politics is irrelevant, and radical is realistic.
By politics, I don't mean we need to pretend to have a traditional political programme that will lead us to the land of milk and honey; instead, I'm merely suggesting that we always foreground the basic struggle for power. By theology, I don't mean that we need to believe in supernatural forces that will lead us to a land of milk and honey; instead, I'm merely pointing out that we all construct a worldview that is not reducible to evidence and logic.
And all this needs to be radical - an unflinching honesty about that unjust and unsustainable nature of the systems in which we live. Whatever pragmatic steps we take in the world, they should be based on radical analysis if they are to be realistic.