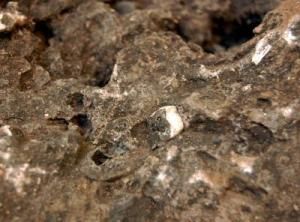 Scientists from the Wits Institute for Human Evolution based at the University of the Witwatersrand in Johannesburg have just announced the discovery of a large rock containing significant parts of a skeleton of an early human ancestor. The skeleton is believed to be the remains of 'Karabo', the type skeleton of
Australopithecus sediba
, discovered at the Malapa Site in the Cradle of Humankind in 2009.
Professor Lee Berger, a Reader in Palaeoanthropology and the Public Understanding of Science at the Wits Institute for Human Evolution, will make the announcement at the Shanghai Science and Technology Museum in Shanghai, China on 13 July 2012.
"We have discovered parts of a jaw and critical aspects of the body including what appear to be a complete femur (thigh bone), ribs, vertebrae and other important limb elements, some never before seen in such completeness in the human fossil record," says Berger. "This discovery will almost certainly make Karabo the most complete early human ancestor skeleton ever discovered. We are obviously quite excited as it appears that we now have some of the most critical and complete remains of the skeleton, albeit encased in solid rock. It's a big day for us as a team and for our field as a whole."