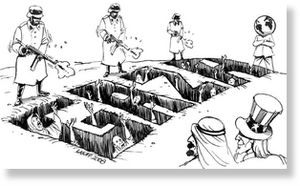 Much has already been written about the eight-day-long running massacre of Palestinians that is taking place in Gaza. Indeed, what more can be said when it is clear that the Israeli government is intent on blithely ignoring all petitions, both the ambivalent and the unequivocal, to stop the indiscriminate murder.
At least 450 dead so far (other reports put the figure closer to 500), many of them civilians, women, children, old and young, the rest policemen or Hamas officials. At least 2000 injured, many too seriously to survive or be treated in Gaza's
severely blockaded hospitals
. In short, in the last eight days the state of Israel has murdered approximately 500 innocent Palestinians and seriously injured 2000, and the representatives of the world's leading democracies sit virtually silent. Make no mistake and do not be fooled by the mainstream media reporting, every single Palestinian that has died or been injured as a result of the Israeli bombardment of Gaza is innocent. When a people that have been dispossessed of their land, livelihoods and homes, occupied, periodically murdered and regularly starved take action to resist and defend themselves,
they are guilty of nothing but standing up for their human rights and their rights under international law
.