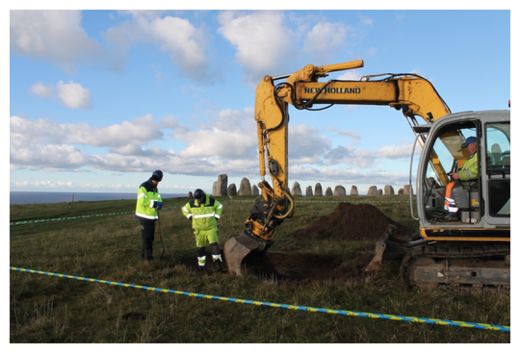 A 5,500-year-old tomb possibly belonging to a Stone Age chieftain has been unearthed at a megalithic monument in the shape of a ship called the Ale's Stenar (Ale's Stones). The tomb, in Sweden, was likely robbed of stones to build the Viking-era ship monument.
"We found traces - mostly imprints - of large boulders," said lead archaeologist Bengst Söderberg of the Swedish National Heritage Board. "So my conviction is that some of the stones at least, they are standing on the ship setting."
Perched on a seaside cliff in the village of Kåseberga stands the Ales Stenar, also called
Ale's Stones
, 59 massive boulders arranged in the 220-foot (67-meter)-long outline of a ship. Most researchers believe the 1,400-year-old ship structure is
a burial monument
built toward the end of Sweden's Iron Age. Local legend has it that the mythic King Ale lies beneath the site.
The Ales Stenar megaliths, some of which weigh as much as 4,000 pounds (1,800 kilograms), have distinctive cut marks similar to ones found at Stone Age sites. So researchers wondered whether the stones were stolen from an even older monument, Söderberg told LiveScience. [
See Photos of Ale's Stones & Tomb
]