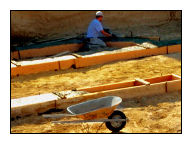 An archaeological excavation in Wales may give new insight into ancient British farmers. A Neolithic portal dolmen holds rare remains of human bones and shards of decorated pottery. Experts say it's rare to discover such a site of this age, as intense farming practices since the 1600s meant a lot of ancient sites were destroyed.
Archaeologists have discovered the remains of a Neolithic portal dolmen, one of Western Europe's oldest ritual burial chambered monuments, in an isolated field in Wales.
It is thought the tomb was built from giant boulders about 5,500 years ago. Its capstone bears a seemingly random pattern of dozens of circular holes gouged into its surface -- symbols of Neolithic or Bronze Age ritual burial activity.
What makes it particularly interesting is that the site has rare remains of human bones and shards of decorated pottery. An official burial licence must now be sought before the bones can be removed, but eventually radiocarbon-dating and other tests planned for the remains may give new insight into our early farming ancestors.
The archaeological excavation near Newport in Pembrokeshire has been led by George Nash, Thomas Wellicome and Adam Stanford, who plan to resume work in September.