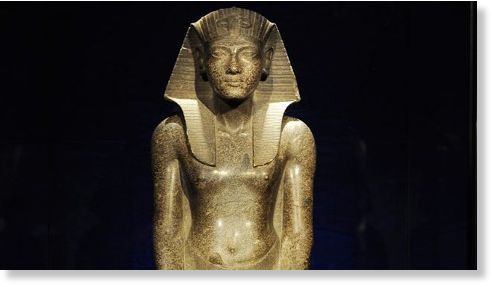 The mystery of King Tut's death might finally be solved, according to one scientist who argues that the secret to the young Pharaohs demise is hidden in plain sight.
Dr. Hutan Ashrafian, a lecturer and surgeon at the Imperial College London, says the key to the mystery lies in the art of the time, which depicted King Tut with highly feminine features, including enlarged breasts.
The enlarged breasts, he argues, are indicative of a condition known as gynecomastia, which, when added to a host of historical and familial evidence, indicates that Tutankhamun might have suffered and eventually died from temporal lobe epilepsy.
Ashrafian says the first clue is in the relatively early deaths of other rulers who were directly related to Tutankhamun.
"For all of them to die sequentially at younger ages is a sign of a genetic inheritance of some sort," Ashrafian said, adding "you could argue one of them died in battle, one of them was poisoned but none of them did die in battle. They could have been poisoned, of course, but it's very odd for sequential pharaohs who were aware that they could have been killed to be killed at such a young age."