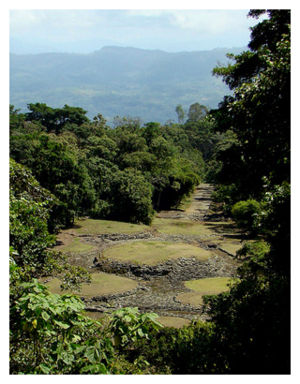 To most Costa Ricans - Ticos and expats alike - Costa Rican history begins with the arrival of the Spanish in 1502. Recent developments and archeological finds are painting a far different picture however. In fact, there is increasing evidence that ancient cultures thrived in the land of Pura Vida long before European explorers cast covetous eyes upon its beauty and natural riches.
Three archeological sites in various parts of the country give an interesting glimpse into pre-Columbian life: Guayabo and La Montana complex in Turrialba, the footpaths of Lake Arenal, and . Each site offers a different window into who the ancient Costa Ricans were and how they lived.
Turrialba
The first, and probably the most notable, is Guayabo de Turrialba. This 540 acre - which is roughly 219 hectares - site can be found in Turrialba on the southern slope of the Turrialba Volcano.
The Guayabo National Park monument was established to preserve the ruins of the city even as archeologists continue to unearth details about the settlement and those who lived there. To date, it is estimated that Guayabo was established and inhabited somewhere around 1500 B.C. During the height of its existence, the city may have held between 10,000 and 25,000 people. For unknown reasons, the settlement seems to have been abandoned by 1400 A.D.-nearly a century before the Spanish arrived. Curiously, no record was left by the Spanish as to whether they had discovered the location and, if so, what condition it was in.