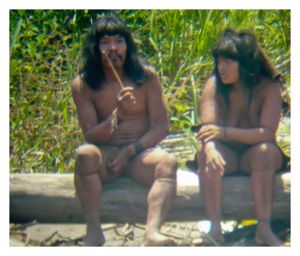 New images of an uncontacted Peruvian tribe reveal a small band of people, clad in little more than beads and bands of fabric, sitting by a river in the southeastern part of the country.
The photographs, released by advocacy group Survival International, are the closest-ever glimpse of uncontacted Indians ever caught on camera, according to the organization. They provide considerably more detail than
earlier images
taken from aircraft over settlements.
The people in the photograph belong to the Mashco-Piro tribe. This tribe likely descends from a group that was attacked and displaced in 1894, when rubber baron Carlos Fermin Fitzcarrald encroached on their ancestral lands. Surviving members of the tribe maintain voluntary separation from the outside world, though oil exploration may be encroaching on their solitude, according to Survival International.
The dangers inherent in contacting tribes who'd rather be uncontacted came to the forefront this November, when a local Peruvian man of the Matsigenka tribe, Nicolas Shaco Flores, was found shot through the heart by a Mashco-Piro arrow. Flores had long been in touch with the tribe, albeit at a distance, wrote anthropologist and friend Glenn Shepard on his blog
"Notes from the Ethnoground."