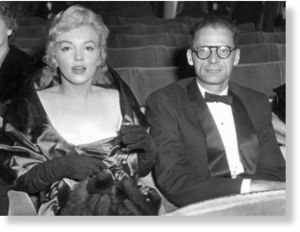 The FBI has released classified document confirming Hollywood star Marilyn Monroe was under surveillance for allegedly having "drifted into the Communist orbit" from the mid 1950s through to months before her death.
The classified files on the actress and her husband Arthur Miller have been rediscovered after going missing. The documents reveal some of the names of Monroe's alleged Communist friends, and that the FBI kept close track of the movie star,
The Daily News
reports.
Information that the
Some Like It Hot
star had ties to the Communist Party emerged in the 1950s, after Monroe married playwright Arthur Miller in 1956.
That year the FBI recorded an anonymous phone call to the
New York Daily News
that sparked interest in Monroe's affairs. The caller implied that Arthur Miller whom she had just married was a Communist and that Monroe had 'drifted into the communist orbit'. The caller also reported "that the actress's company, Marilyn Monroe Productions, was 'filled with communists' and that money from the company was being used to finance communist activities,"
The Daily Mail
says.
That's where Monroe's file begins focusing on her travels, acquaintances and looking for signs of pro-Communist views.
The FBI followed the actress up until months before her death under suspicious circumstances in August 1962. The files also include information given in news articles about the actress' death and extracts from Norman Mailer's biography of the actress, which highlights assumptions that Monroe was killed by the government.
The death of the Hollywood star still remains a mystery, even after two major government investigations. The first one was held straight after her death, and the other one was launched in 1982.
The files on Monroe were made publicly available on the bureau's website, after The Associated Press launched a campaign to make more data on Monroe public to mark the 50th anniversary of her death.