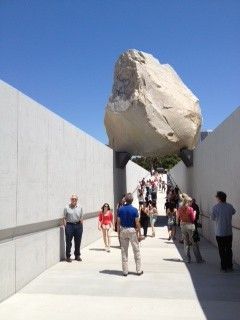 As director of the UCLA Rock Art Archive, I have had the privilege of studying the seminal research of renowned California archaeologist Robert F. Heizer. He spent much of his professional life researching prehistoric art, known as rock art. His son, the famous artist Michael Heizer, grew up exploring his father's excavations throughout California. Michael Heizer's masterwork, entitled "
Levitated Mass
," is a massive granite boulder weighing 340 tons. Installed at the Los Angeles County Museum of Art, "Levitated Mass" is a profoundly literal interpretation of "rock art." Transported from a distant desert quarry, the boulder was moved along a 105 mile route with minimal environmental impact and accompanied by a cacophony of Internet tweets. The space shuttle
Endeavor
, in contrast, recently traversed the city in a challenging 12 mile journey that
Los Angeles
Times
architecture critic
Christopher Hawthorne
likened to an ancient ceremonial procession. Both events involved advanced industrial technology, enormous resources, careful and farsighted planning, large numbers of participants and crowds of observers, and were motivated by the goals of history, private passion, and public education.