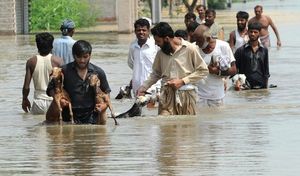 BP's oil spill in the Gulf of Mexico is threatening to disrupt key ocean currents that keep the climate of the Northern Hemisphere temperate. It is also inflicting a wound on the ecosystem by poisoning and killing a large number of sea creatures and interfering with their breeding cycles.
At the same time, the global weather is turning extreme again - this time in the form of torrential rain and floods. In some countries the storms have come after harsh droughts. Such drastic changes destroy crops and affect our food supply, which in turn
affect food prices
. This would not be the first time the world has faced a food crisis, but now it comes two years into an economic recession that more are beginning to realise is a full-blown 'depression'. As people reach their limits of desperation, they are more likely to take to the streets to voice their anger.
Our leaders, however, are showing no interest in covering the basic needs of the masses nor delivering economic justice. On the contrary, war is all they wish to bring, starting with the Middle East.