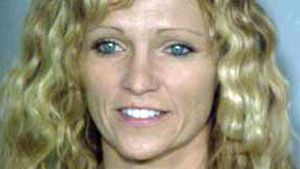 A Las Vegas woman accused of masterminding a botched plot to kill her estranged husband was motivated by a life insurance payout and a romantic relationship with their adopted son, according to a police report.
Amy Pearson, 42, surrendered to the Las Vegas Metropolitan Police Department on Friday on charges of attempted murder, battery and conspiracy to commit murder against her husband, Robert Bessey.
An extensive police report detailing the crime, taped jailhouse conversations and interviews with witnesses was released Monday by the Las Vegas Metropolitan Police Department.
Bessey, 49, was
shot in the neck
while driving south on Interstate 15 on Nov. 14, in what the suspects designed to look like a road rage incident, according to the report.