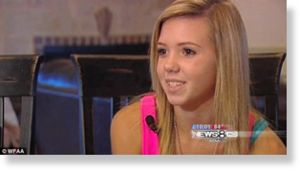 A Texas schoolgirl is nursing a bruised and 'blistered' behind after she was spanked by her male vice principal.
Springtown High School sophomore Taylor Santos was walloped by the teacher after allegedly letting another student copy her work.
But her mother, Anna Jorgensen, has complained to the school, furious that they allowed her daughter to be brutally paddled by a man.
Taylor was given two days in-school suspension for cheating, though she claims she didn't know the student copied her assignment, according to
WFAA
.
After day one Taylor, a top student, opted to get a paddling rather than miss a second day's classes, but the decision left her in searing pain.