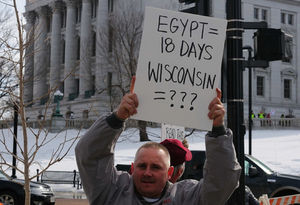 As protest in Wisconsin stretch into its sixth day on Sunday, union members and supporters are have begun to arrive in both Madison and Green Bay, where a smaller pro-union rally will take place outside Packers Stadium.
Meanwhile, Governor Scott Walker said that the state Democrats senators who have fled Wisconsin to protest a vote on his controversial legislation to reduce public employee bargaining rights have "failed to do their jobs," and that he expects then to concede this week.
"If you want to participate in democracy, you've got to be in the arena, and the arena is right here in Madison, Wisconsin," Walker said on "Fox News Sunday.
"My hope is that cooler minds will prevail and by some time earlier this coming week they'll show up for their job," Walker added. "Democracy is not about hiding out in another state. It's about showing up here in the capital and making the case there, and for us, we're willing to take this as long as it takes."
More than seventy-thousand protestors descended on Wisconsin's capitol yesterday, angry at Walker's bill to slash their union benefits and eliminate bargaining rights, a plan that has the backing of the Republican controlled state Senate. Pro-union protesters were joined by supporters of Walker's bill -- many of them bused in by tea party groups -- who support efforts against the 14 Democratic state senators who are hiding in Illinois and preventing the bill from coming to a vote on Tuesday.