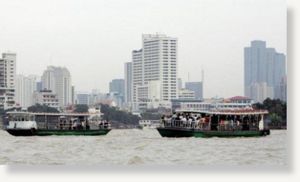 The fate of around nine unborn children hangs in the balance as Thai authorities weigh what to do with the offspring of Vietnamese women freed from an illegal baby breeding ring in Bangkok.
A total of 14 women, half of them pregnant, were freed on Wednesday from an operation using them as surrogates for wealthy childless couples overseas who placed orders for newborns online.
Campaigners fear for the future of the infants who are born to desperate women -- perhaps not their biological mothers -- and into a legal grey area, with Thailand still mulling the ramifications of the case.
"There is a risk that those children might end up as stateless, that they won't get citizenship anywhere," said Benedict Phillips, Asia strategy director at Save The Children.
Public Health Minister Jurin Laksanawisit has described the gang, which operated under the name Baby 101, as "illegal and inhuman" and suggested some of the women had been raped.
A few were offered up to $5,000 per baby, but others said they had been tricked into the scam, said police, who have arrested four Taiwanese, one Chinese and three Myanmar nationals in connection with the operation.
One 35-year-old Taiwanese woman was arrested on suspicion of human trafficking.