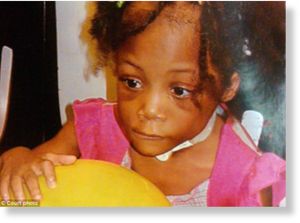 The five-year-old brother of a girl who was beaten and starved to death by their mother brought food to her funeral so she would have enough to eat in heaven, it was revealed.
'Monster mom' Carlotta Brett-Pierce was found guilty of murder last month and sentenced to 32 years to life in prison yesterday.
Her four-year-old daughter Marchella died covered in bruises and open wounds and weighing only 19 pounds in September 2010. She was found drugged and beaten, tied to her SpongeBob SquarePants bed at the Brooklyn home.