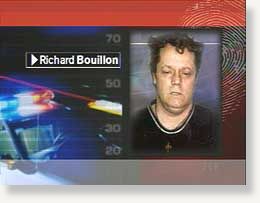 It's a heartbreaking tale that could close the books on an 11-year cold case.
It involves a missing girl and a cancer-stricken convict who, on his deathbed, allegedly confessed to murdering her many years ago.
A health-care worker emerged this week to say that a convicted sex-offender, the prime suspect in the Julie Surprenant kidnapping case, revealed before dying that he dumped the girl's body in a river.
The medical worker apparently waited almost five years before going public with her story. She finally told a television celebrity, a well-known Quebec crime reporter, this week.
It's a story that Surprenant's father struggles to accept.
"It was a shock when I heard the news (this week) because I wasn't expecting it and because there's a level of credibility to it," Michel Surprenant said Thursday.
"For the time being, I'm holding back a little."
The father said he doesn't understand why it would take so long to go public with the supposed confession of the long-time suspect, Richard Bouillon.
Julie Surprenant, one of Quebec's best-known abduction cases, became famous as the smiling, curly-haired girl in the high-school graduation photo splashed on missing person's posters around the province.