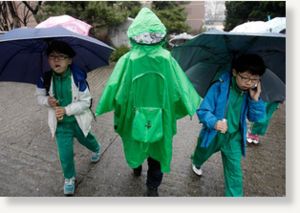 Dozens of schools in South Korea closed Thursday amid concerns about radioactive fallout from Japan's nuclear disaster.
Classes were canceled or shortened at more than 150 schools as rain fell across the country.
Authorities said radiation levels in the rain posed no health threat.
However, school boards across the country - Japan's closest neighbor - advised principals to use their discretion in scrapping outdoor activities to address concerns among parents, an education official said.
"We've sent out an official communication today that schools should try to refrain from outdoor activities," the official added.