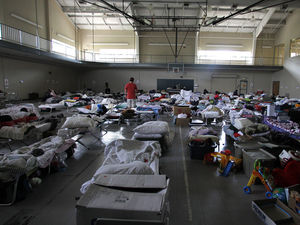 For survivors of last week's deadly tornadoes in Alabama and other parts of the South, shelter is the paramount concern. With thousands left homeless, the challenge is finding temporary housing for displaced residents while the region rebuilds.
The Federal Emergency Management Agency says some 30,000 people have registered for assistance, and more than 3,000 National Guard members are on the ground conducting search and rescue, security and debris removal.
Home these days for Starkey Armistead of Tuscaloosa, Ala., is one of dozens of cots lined up on the gym floor at the Belk Activity Center where he has stayed since a tornado destroyed his apartment.
"It's a little different sharing a bedroom with a hundred people, but you get used to it," he said.
Across the South, more than 800 people are staying in shelters like this one set up by the Red Cross. Others are staying with family and friends, or even in their damaged homes. Residents in Tuscaloosa on Tuesday scrambled to get broken windows boarded up and tarps over roofs before a cold rain set in.