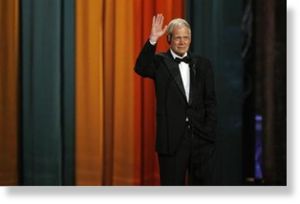 A Muslim militant has urged American followers to assassinate talk show host David Letterman, saying his tongue deserved to be cut out, a U.S. intelligence monitoring group said on Wednesday.
The SITE intelligence group said the death threat was posted on an online website used by militants after the writer became upset by a joke Letterman made about the death of a leading member of al Qaeda killed in an air strike in Pakistan.
The militant called on Muslims in the United States to "cut the tongue of this lowly Jew and shut it forever," the threat against Letterman said, according to a translation by SITE. The popular late-night television host is not Jewish.
The FBI said it was taking the threat seriously.
The writer was angered by watching Letterman on his show drawing his finger across his neck while talking about the June death of senior al Qaeda figure Ilyas Kashmiri.