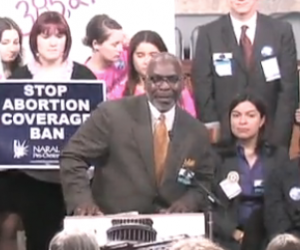 For about 20 years, Dr. Willie J. Parker refused to perform abortions at his Washington D.C. office because he was raised Christian and taught that abortion was wrong.
However, he recently told the
New Jersey Star Ledger
what changed his mind and convinced him to perform abortions as late as 24 weeks:I wrestled with the morality of it. I grew up in the South and in fundamentalist Protestantism, I was taught that abortion is wrong.
Yet as I pursued my career as an OB/GYN, I saw the dilemmas that women found themselves in. And I could no longer weigh the life of a pre-viable or lethally flawed fetus equally with the life of the woman sitting before me.