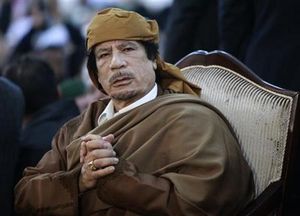 Both Libya and Venezuela denied on Monday reports that Libyan leader Muammar Gaddafi was seeking asylum after revolt reached Tripoli and would join his friend President Hugo Chavez in the South American oil producer.
Adding to media rumors, British Foreign Secretary William Hague said earlier on Monday he had seen information to suggest Gaddafi had fled Libya and was on his way to Venezuela, a fellow OPEC member.
But Venezuela's information minister said the leader who has ruled Libya for more than 40 years was not coming.