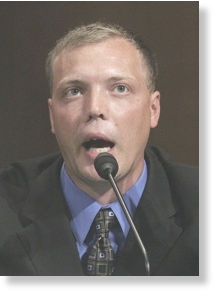 The Seventh U.S. Court of Appeals ruled August 8 that two American citizens detained and tortured without trial or court hearing by the Bush-era Defense Department may sue former Defense Secretary Donald Rumsfeld.
U.S. Navy veteran Donald Vance (left) and fellow American Nathan Ertel were employed by the private U.S. government contractor Shield Group Security in 2006 outside the Baghdad green zone and witnessed the sale of U.S government munitions to Iraqi rebel groups for money and alcohol. After becoming FBI informants, the two were detained and tortured by federal officials for 97 days (Donald Vance) and six weeks (Nathan Ertel) at Camp Cropper in Iraq after contacting the FBI about corruption in the now-defunct federal contractor.
Judge David Hamilton wrote in a 2-1 appellate court decision that concluded, "The wrongdoing alleged here violates the most basic terms of the constitutional compact between our government and the citizens of this country." The district court had earlier ruled that the allegations are the kind that "shocks the conscience."