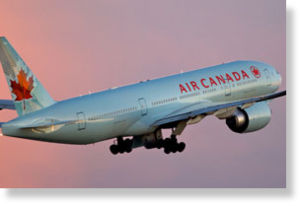 Air Canada headed closer to another possible labour disruption Thursday after its pilots began a strike vote in response to what they said was a "rigid" company position that appeared aimed at escalating their contract dispute.
A strike mandate after the schedule five days of voting would put the airline's 3,000 pilots in a legal strike position early on Feb. 17, or 72 hours after the end of a legally manadatory cooling off period.
The strike vote doesn't mean the pilots will actually initiate a labour stoppage, but it gives the union the ability to respond to any unilateral moves by the company.
"The corporation has tabled a position that asks for more concessions and threatens our entire careers through scope changes that would ship much of our flying outside Air Canada, possibly offshore," Captain Gary Tarves, chairman of the Air Canada Pilots Association, said in a memo to pilots.
Tarves said the airline's "rigid position" raises "the possibility that it simply seeks to run out the legislated time clock and lead us toward an escalation."