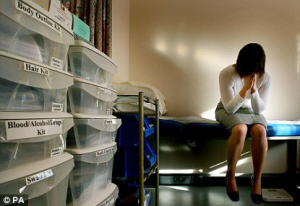 For years, hospitals in northeastern Wisconsin have billed sexual assault victims as much as $1,200 for the cost of their examinations, according to a new investigation.
The Post-Crescent newspaper
found
that, despite the availability of government funds to cover the cost of sexual assault examinations, many hospitals were sending the bill to victims. The AP has
more
:
When someone is sexually assaulted, the process of collecting forensic evidence can include taking pictures of bruises, swabs of sexual fluids or hair. Other expenses, which can include a pregnancy test, antibiotics and medical supplies, can bring the final price tag to about $1,200. [...]

For example, hospitals in the ThedaCare system used to absorb the cost for years as part of their charity care, said Jean Coopman-Jansen a program coordinator at Appleton Medical Center. After a change to comply with the health system's billing rules, some victims last year were forced to pay the costs themselves, she said.