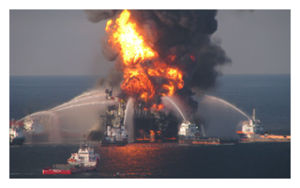 A judge in New Orleans has ordered that the start date be put back a week to allow more time to try to negotiate a settlement
The gigantic civil trial resulting from the Gulf of Mexico oil disaster has been delayed for one week, just hours before it was due to get underway in a New Orleans court on Monday to give BP and lawyers for the tens of thousands who lost their livelihoods time to negotiate a settlement.
Judge Carl Barbier issued an order on Sunday afternoon putting off the start date until 5 March, citing reasons of "judicial efficiency".
A joint statement issued by BP and the plaintiffs' steering committee said the delay was granted to give the armies of lawyers from both sides more time to reach a deal. "This adjournment is intended to allow BP and the PSC more time to continue settlement discussions and attempt to reach an agreement," the statement said.