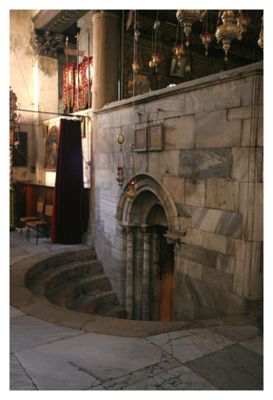 The holy city of Bethlehem's Church of the Nativity, thought to be the birthplace of Jesus, may become the first World Heritage Site in the Palestinian territories, according to UNESCO.
In its 36th yearly session, the World Heritage Committee - consisting of representatives from 21 of the States Parties to the Convention - will consider 36 possible
World Heritage sites
, from June 24 to July 6 in Saint Petersburg, Russia.
The list currently includes more than 900 properties deemed by the committee as having "outstanding universal value" as part of the world's natural and cultural heritage.
Palestine, which became a member of UNESCO in October 2011, will be presenting the church and the surrounding route used for religious pilgrimages as its first site for inscription on the World Heritage List.
That vote, to accept the Palestinians into UNESCO, proved controversial, according to
a CNN news report
, suggesting the United States held the view that a peace deal should be reached with Israel before the Palestinian territories were granted full UNESCO membership.
Located in the holy city of Bethlehem, the Church of the Nativity, a Byzantine basilica, is built on top of the cave where, according to a tradition first documented in the second century, Jesus was born, UNESCO notes. Helena, mother of Christian Emperor Constantine, is said to have intended the basilica to commemorate Jesus' birth.