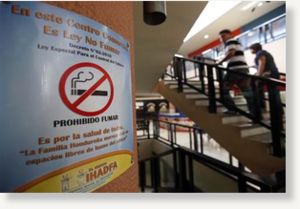 Lighting up a cigarette at home could bring a visit from Honduran police if a family member or even a visitor complains about secondhand smoke.
A new law that took effect Monday banning smoking in most public and private spaces doesn't actually outlaw cigarettes inside homes, but it does have a provision allowing people to file complaints about secondhand smoke in homes.
Violations would bring a verbal warning on the first offense. After that could come arrest and a $311 fine - the equivalent of the monthly minimum wage in this Central American country.
Even some anti-smoking advocates suspect that part of the law may not work.
"It seems its intention is to educate by way of complaints, a move that I do not find very feasible," said Armando Peruga, a program manager at the World Health Organization's Tobacco-Free Initiative.
He did praise Honduras for adopting a broad anti-smoking law, noting it is only the 29th nation to adopt such a law out of WHO's 193 member states.
But Peruga said the clause allowing family members to call police on their smoker relatives is confusing. The clause "does not make much sense since the law clearly does not prohibit smoking at homes."