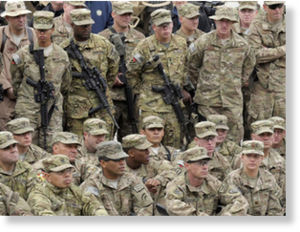 Thousands of dollars' worth of presents wrapped and ready to be sent to US servicemen stationed overseas were stolen from a California warehouse this week.
The Move America Forward charity was preparing last minute holiday care packages to be mailed to troops in Afghanistan on Monday when it discovered that around 25 parcels had been stolen from a locked trailer within a warehouse in the capital city of Sacramento.
Scott Raab of Move America Forward says someone must have broken into the facility before Monday morning and physically broke the lock that was securing a portion of the almost 400 packages.
"You know it's really sad that someone would take this from the troops," Raab tells a local CBS affiliate.
Move America Forward sends care packages regularly to US troops stationed overseas throughout the year, but the latest shipment was special in that it included hand-written notes meant to raise the spirits of the servicemen during the holiday season.