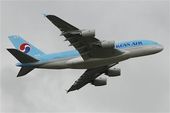 The European airplane maker Airbus was left red in the face this weekend, when on on-ground accident forced it to withdraw an A380 superjumbo from the Paris Air Show.
The enormous plane--with a wingspan of 80 yards--scraped a building at the show, clipping its wing. Korean Air flew one of its superjumbo jets to the show to come to Airbus' rescue, The Wall Street Journal reported. The damaged plane sat with its wing covered over the weekend.
The mishap wasn't the only embarrassment for Airbus at the biennial air show. The company also had to pull a military transport carrier A400M from a flight demonstration after problems were found in its gear box, the Journal reports. Airbus officials then brought in another aircraft to do a flyover pass to impress visiting foreign dignitaries who attended the show.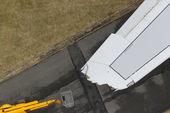 Meanwhile, rival Boeing's distinctive 747-8 superjumbo upstaged Airbus. The company said it had received $5.4 billion in orders for the new aircraft.