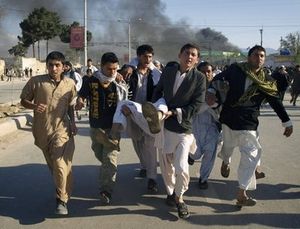 Kabul, Afghanistan - Three insurgents attacked a NATO base on the outskirts of Afghanistan's capital Saturday but were killed by coalition forces before they could enter the compound, NATO and Afghan police said.
The attack came just hours after Afghans angry over the burning of a Quran at a U.S. church stormed a U.N. compound in northern Afghanistan, killing seven foreigners.
NATO told The Associated Press in an email that three of its soldiers were wounded in Saturday's attack against Camp Phoenix, but that their injuries were not serious. The coalition said at least one attacker was possibly wearing a suicide vest. It added that the attack had ended.
Kabul provincial Police chief Gen. Mohammad Ayub Salangi said there were reports of three attackers involved and that two of them died when their vests detonated. He said a third was shot.
The base's gate had scorch marks on it, and an AP reporter at the scene saw some of the remains of at least one body belonging to a man who had blown himself up dangling from the gate.
Police officer Mohammad Shakir told the AP outside the base that two suicide bombers were involved in the attack and were apparently wearing burqas, the all-encompassing turquoise-colored coverings worn by many women in Afghanistan. The body of a third insurgent was just inside the gate, he said. He was shot and killed, Shakir said.