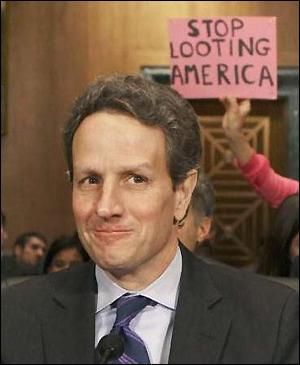 Tim Geithner, former head of the New York Fed during the lead up to the Wall Street melt down, then Secretary of the Treasury in President Obama's first term, is undergoing his own version of a big bank stress test: does he have the capital to survive the storm he has stirred up with his new, revisionist history book,
Stress Test: Reflections on Financial Crises
.
Geithner's book has barely made it to the bookstore shelves (it's slated for official release today) and already he's been called a liar by R. Glenn Hubbard, Dean of the Columbia Business School; Geithner is effectively calling author Ron Suskind a liar in the book; and the book's attack on Neil Barofsky, former Special Inspector General of the Troubled Asset Relief Program (TARP) has warranted
a strong response
from Barofsky where he says he doesn't believe former Treasury Secretary Hank Paulson made the remarks that Geithner has attributed to him against Barofsky.
Politico's MJ Lee explains the ruckus between Hubbard and Geithner. Hubbard was the head of the Council of Economic Advisers during the presidency of George W. Bush and advisor to Mitt Romney during his 2012 campaign. Geithner says in the book that Hubbard told him "Well, of course we have to raise taxes - we just can't say that now." Hubbard told Politico this statement "just happens to be a lie."