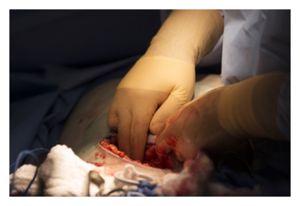 New York hospitals are routinely "harvesting" body parts from patients before they're even dead, a lawsuit is claiming.
The suit accuses the transplant non-profit, The New York Organ Donor Network, of bullying hospital staffers to declare patients brain dead when they are still alive in order to take their organs.
Plaintiff Patrick McMahon, 50, an Air Force combat veteran, is a former transplant coordinator who claims he was fired just four months into the job for protesting about the practice and estimates that one in five patients is still showing signs of brain activity when surgeons declare them dead and start ripping out their body parts.
"They're playing God," McMahon told
New York Post
. The lawsuits, filed in Manhattan Supreme Court Tuesday, cited four examples of improper organ harvesting.
One of the examples cited details of a 19-year-old man injured in a car crash who was still struggling to breath and showed signs of brain activity when doctors at Nassau University Medical Center declared him brain dead under pressure from the donor-network officials, including Director Michael Goldstein, who allegedly said during a conference call: "This kid is dead, you got that?" the suit claims.