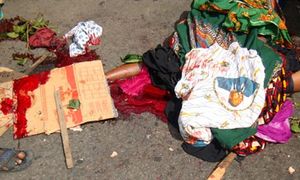 Military says shootings were 'blunder we regret' as once stable nation faces meltdown
Seven women have been massacred during a peaceful protest in Ivory Coast as the country appeared to stand on the brink of all-out civil war.
More than 200,000 people have fled, and the nation that was once a model of stability in west Africa is now experiencing bloodshed and economic meltdown.
The women's demonstration became a scene of terror when security forces opened fire with machine guns in Abobo, a sprawling, impoverished suburb of the commercial capital, Abidjan, where some of the deadliest clashes have taken place during three months of crisis.
They were about to set off from a roundabout on a march to call on Laurent Gbagbo to step down as president.
"Men in uniform drove up and started shooting randomly. Six women died on the spot,"
Idrissa Diarrassouba told Reuters. A seventh died in hospital. Many others were wounded.