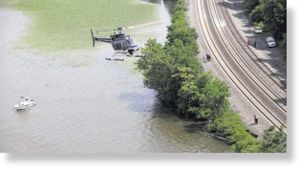 Jumped into Hudson Tuesday morning
A former Orange County banker leaped off the Newburgh-Beacon Bridge Tuesday morning, killing himself as bridge workers watched helplessly.
State police identified the man as William Myers, 65, of Middletown. Myers had been the CEO of two banks, one of which he founded during a career that had turned rocky in recent years.
State police Senior Investigator George Mohl said a passing motorist saw Myers park a 2009 Chevrolet Cobalt in a westbound lane, walk to the edge of the bridge and jump over the side. A Bridge Authority employee notified state police at 9:45 a.m.