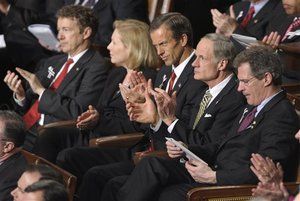 Wasington - Tea party-backed Republican Sen. Rand Paul favors cutting U.S. aid to Israel as part of a deficit-driven effort to slash government spending by $500 billion this year, drawing criticism from Democrats and Republicans who argue the U.S. must be unwavering in its support for the longtime Mideast ally.
The freshman Kentucky lawmaker unveiled his budget proposal this week that would make significant cuts in education, housing and energy while reducing money for wars in Afghanistan and Iraq by $16 billion. Paul's plan also would cut some $20 billion in overseas aid, and he said he wants to eliminate the $3 billion the United States provides to Israel annually in foreign military assistance.
"The overwhelming majority of Americans agree with Senator Paul - our current fiscal crisis makes it impossible to continue the spending policies of the past," Paul spokesman Gary Howard said in a statement responding to the criticism. "We simply cannot afford to give money away, even to our allies, with so much debt mounting on a daily basis."